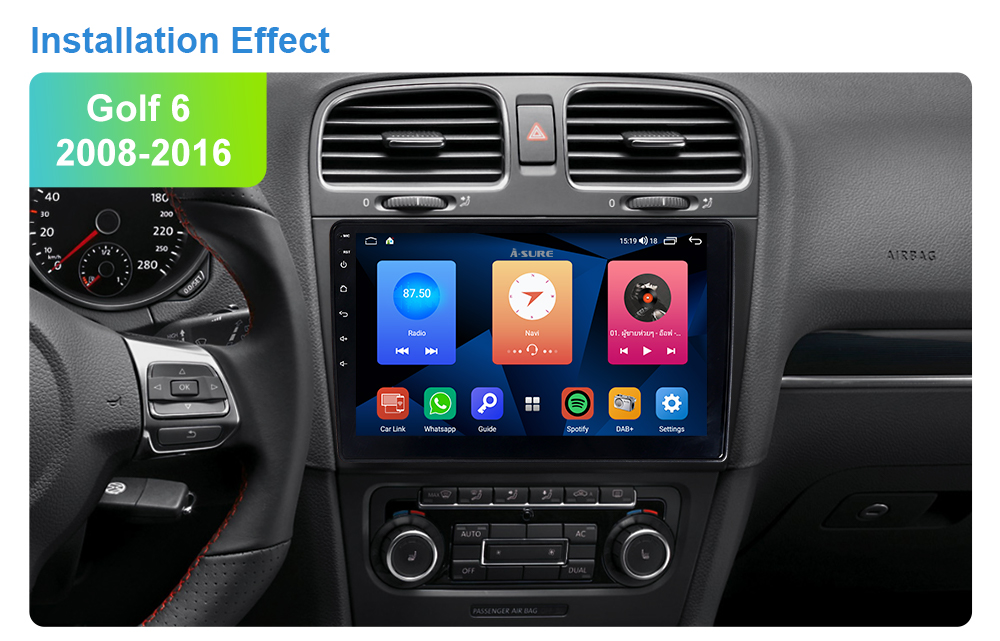 How to select a right A-Sure car radio
Select a new car radio involves several steps
1.Determine your price range
A-Sure Radios cost from 100 to under 300 EUR. Android Radio from 150 to under 300 EUR. WinCE Radio from 100 to under 200 EUR.
2.Check the compatibility
you can search your car in Compatibility list or find your car in Compatibility Summaries picture at product website. for example: VW Auto Radios
if your car is not in the list or Summaries, you can contact us via Email. pls inform us the type and building year of your car and send us a photo of your old radio. we will check, whether the radio fit your car. extra adapter cables will be needed, if your car has originall rear view camera or atypical radio antenna cable.
3.Consider the functions 
basic functions of all A-Sure Radios are 
AM/FM Radio
GPS navigation
USB Port
Micro SD Card Port
Internal storage (16GB, 32 GB or 64GB)
Wheel steering control
MP3/WMA/AAC playback

Support for Smartphones

DVD/CD 

playback* (for 7 inch and 8 inch Radios)

Bluetooth® connectivity for Hands-Free talk, portable music players
Android System Radio offer advanced capabilities, such as:
Internet 

connectivity

Android Apps Installation from Google Play Store 
Mirrow links or Apple Airplay

other app-related sources
4.Consider the Expandability
all A-Sure Radios support
Rear View Camera
DAB+ Digital Radio 

Receiver

DVB-T2 TV Receiver

Subwoofers
Android System Radio offer advanced Supports
OBDII
DVR Camera
TPMS 

Rear seat video screens

Internet Stick
5.Consider the installation of radio.
we offer Video Guide to remove old radio and install new radio. you can watch the video first to decide whether install the radio yourself or at car service center. All the A-Sure Radio are plug and play device. Most users can be finish installation of Radio in 1 or 2 hours.
6.Consider the update of Software
Navi software and map materials updates 1 or 2 times in year. A-Sure offer live long and free Navi updates. please contact us via Email for update.
Here are some practices to select a A-Sure car radio
Case 1:  you want to buy a car radio for grandfather. Grandfather do not use smartphones or connect in Internet. So you can select a Wince Radio will be satisfy all basic demands, Radio and GPS navigation.
Case 2: you want to sell your used car out. but the car radio is broken. the car with a functionable car radio will be easy to sold out or can get back a little more money. so you can select a refurbished A-Sure Radio. for that, you can buy it at our ebay shop.
Case 3: you do not use DVDs or CDs. you can select a Android car radio with 9 inch screens. 9 inch Radios are without DVD/CD Player.